Being the 2nd largest industry, the Indian construction industry is employing 35 million employees. And as the Government of India and the private sector are boosting infrastructure development, this industry is expected to continue to grow. So, if you are interested in joining the construction industry, you may consider studying for the BE Civil Engineering Course.
Later in this blog, we'll discuss how this degree will help you advance your career in different domains and what are the benefits of studying this course.
BE Civil Engineering- Course Introduction
BE civil engineering is an undergraduate program offered by various engineering colleges in India. This course puts emphasis on the building, planning, and upkeep of structures like bridges, buildings, waterworks, tunnels, and airports. This course is taught with a combination of theoretical and practical approaches.
Key highlights of BE Civil engineering course at Terna Engineering College, Navi Mumbai
Course Level
Undergraduate
Course Duration
4 years
Minimum Eligibility Criteria
● Candidates must have successfully completed the class 10+2 level with mathematics, physics, and chemistry classes from an accredited educational board.
● Candidates must have achieved at least a 45% overall grade in class 12.
● Lateral entry – After completing an engineering diploma, you can enrol right away in the second year of BE.
Availability Of Seats
60
Course Fee
5.20 LPA
How civil engineering will benefit in advancing your career
Skilled & qualified BE civil engineering students receive attractive pay packages and numerous career possibilities.
This course offers a respectable profession.
As construction is a growing industry, this profession will always be in demand and you'll have job stability.
Studying this course from a top engineering college will help you learn various transferrable skills.
This course will offer various perks of civil engineering like

exciting job options, attractive remuneration, and work abroad opportunities as well as will help you leave a positive impact on society.
Career Scope of Civil Engineering
Career after BE civil engineering is prosperous and attractive. Civil engineers after completing graduation can work in government organisations like railways, and defence forces to private organisations like DLF, Essar Group, Punj Lloyd, etc. Additionally, you can start your entrepreneurship firm or can opt for higher education courses. Let's check out the career scope in detail-
Numerous jobs after civil engineering are available in public & private sector enterprises. You will get job opportunities in areas like Civil Construction companies, Educational Institutes, Tunnel Engineering Companies, Civil Engineering Companies, oil & energy companies, Engineering transportation companies, and water resources. Let's check out the popular job profiles available for engineers-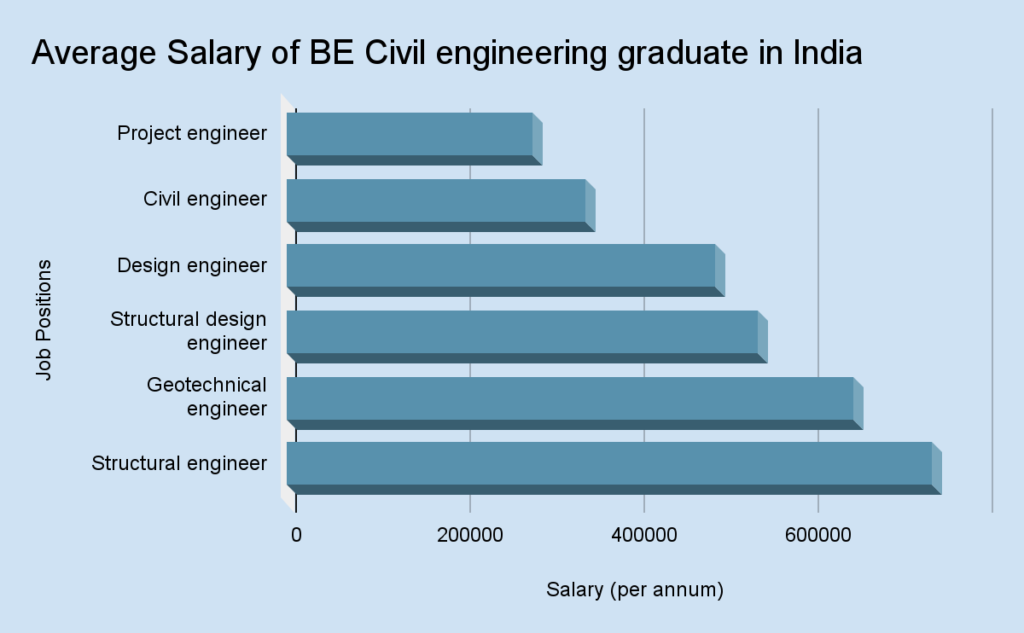 Higher Education Possibilities
Upon completion of an undergraduate degree in civil engineering, apart from jobs students also have the scope for higher studies after civil engineering.
They can pursue courses like-
Choose Terna Engineering College, Navi Mumbai for Civil engineering courses
We educate and train our students and help them secure jobs through civil engineering placements organised at the campus.
 We not only make students prepare for engineering jobs, but we also motivate our students to become entrepreneurs by fostering their entrepreneurial capabilities.
At Terna Engineering College, we are dedicated to offering proper industrial exposure to the students, and for this, we offer our students with industrial visits and regularly invite industry speakers for expert lectures, seminars, and workshops.
We also help our students in securing internship opportunities as civil engineering interns in notable construction companies.
With the growing population of middle-class people in India & Government intervention, there is enormous scope after BE civil engineering in the private and public sectors of India. Additionally, qualified civil engineers can establish their careers abroad. And to further advance your career you can choose to pursue civil engineering from the top engineering colleges of India.
Frequently Asked Questions