Are you planning to register for an information technology engineering course? And do you want to make sure you complete your degree course effectively and successfully so that you can start a promising career in this futuristic industry? If yes, then do you know what steps can lead you to the successful completion of the course?
To answer all the above questions, we have written this blog that talks about the advantages of studying an IT course, career opportunities, and steps through which you can kickstart a successful career with IT.
BE Information Technology- Course Overview
This is an undergraduate-level information technology engineering course that focuses on teaching the application of computer systems for data storage, analysis, transmission, and manipulation.
Course highlights of BE information technology at Terna engineering college -
Course Level
Undergraduate
Course Duration
4 years
Minimum Eligibility

Applicants should have passed class 10+2 level examinations with subjects such as chemistry, physics, and mathematics.
The minimum grade secured by the applicants should be 45%.

Availability Of Seats
60
Higher Education Options
ME, MBA, MTech, M.Phil, PhD
Advantages of studying BE in information technology
Below mentioned are the 5 advantages of information technology course-
High earning potential
Exciting and dynamic work opportunities
Job stability & security
Highly demanding qualification
Enormous career opportunities in various industries
Syllabus of BE- Information technology
Let's take a look at the syllabus of BE information technology at Terna Engineering College
Semester 1

Mathematics
Physics
Engineering Mechanics
Chemistry

Semester 2

Data Structures using C
Engineering Graphics
Electronic devices
Mathematics II

Semester 3

 Database Management Systems
Engineering Mathematics III
Paradigms and Computer Programming Fundamentals
Communication
Data structures and analysis
Lab subjects

Semester 4

Operating Systems
Computer Network and Network Design
Computer Organization and Architecture
Microprocessor Lab
Automata Theory
Unix Lab
Engineering Mathematics IV
Management Information System
Network Lab

Semester 5

Computer Network Security
Entrepreneurship and E-business
Software Engineering
Security Lab
Business Communication and Ethics
Internet Programming
IP Lab
DevOps Lab

Semester 6

Data Mining & Business Intelligence
Mini Project – 2 B Based on ML
Web X.0
Wireless Technology
Lab subjects
AI and DS – 1

Semester 7

AI and DS–II
Recent Open-Source Project Lab
Secure Application Development
Major Project I
Internet of Everything
Optional course

Semester 8

Blockchain Lab
Major Project II
Blockchain and DLT
Cloud computing
Optional course
Major Project II
Steps to successfully Complete BE Information technology course
Selection of the right college
To make a successful career in information technology engineering, you need to be very careful while selecting the college. As good engineering colleges like Terna Engineering College will help you gain quality education and relevant skills through qualified teachers, and modern infrastructure with advanced libraries and labs.
Set long-term goals and short-term plans
After getting admission to an information technology engineering course at a top engineering college, you need to set your long-term goals. And to achieve them you need to make short-term achievable plans. Furthermore, you need to design your schedule and work towards achieving your short-term plans & long-term goals. 
Be attentive and regular in class
And to make the most out of your information technology engineering course, you should be regular in your classes, be attentive to lecturers and you should never shy away from asking questions from your professors in case of doubts. 
Get internship exposure
Getting practical internship exposure is very helpful to receive good BE IT engineering placements opportunities after completion of your course. Additionally, the practical exposure gives you a detailed understanding of the work culture, and job profile and will help you in establishing a network with industry professionals. 
Developing demanding skills
It is very important to develop crucial skills to achieve your information technology career goals during your college days. Top colleges like Terna engineering colleges organise workshops, seminars, organise training sessions to develop these crucial skill sets among students.
A list of crucial technical and soft skills is as follows-
Data mining and analysis
Coding
Negotiation skills
Organisation skills
Creativity
Full-stack web development
Mobile engineering
Analytical skills
Communication skills
Stay updated with the latest trends in the IT industry
Whether you are pursuing BE information technology course or have completed it, it is very important to stay updated with the latest trends and technologies of information technology. And with acquiring knowledge, upgrading your skills based on new technology is also crucial.
Career opportunities after studying BE information technology
Career opportunities in information technology are broad. IT students receive great opportunities both in the public and private sectors. They are highly employed in the areas such as the software industry, cybersecurity industry, IT support companies, Gaming industry, social media companies, etc.
List of some of the prominent job options available after engineering in Information technology are-
Database Administrator
System administrator
Project lead
Support Specialist
Computer Programmer
Technical Trainer
Software Developer
Network Engineer
IT System Manager
IT Technician
Web developer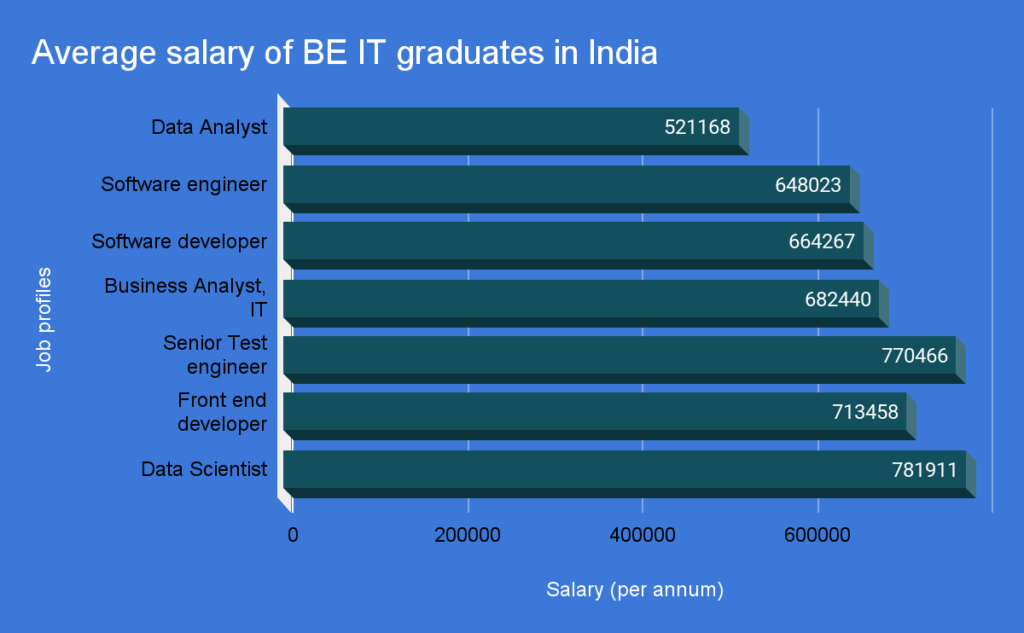 We hope with this blog you have gained a clear idea of information technology benefits, and steps through which you can complete your BE IT course successfully. And now, it's your time to take the first step and select the best engineering college for you that can help you enhance your career possibilities.
Frequently Asked Questions